An Easy Buyer's Guide to Toyota's MPVs in Singapore
The Singapore family driver's buyers' guide to choosing the best seven-person, multi-purpose vehicle (MPV)

SINGAPORE – Looking for a 7 seater car that provides both comfort and practicality? Then, MPVs are what you should look at. This guide will showcase what MPVs like the popular Toyota Prius+ are and their greatest perks, while introducing you to models from the renowned and dependable car brand, Toyota.
What is an MPV?
MPVs, which stand for 'multi-purpose vehicles', are cars that are known for being spacious and practical. They have a sporty and playful look, tall heights and are designed as load-carrying vehicles with more room for passengers and cargo, giving them an edge in urban driving. They are a popular choice among motorists for their high functionality while prioritising comfort.
Why choose an MPV?
As the name goes, MPVs are versatile city cars that go beyond ferrying your family around. They can also haul large and bulky items such as bicycles and luggage without compromising on passengers' comfort. Their large doors and generous openings also allow for easy entry and boarding, as well as smoother cargo loading, while the expansive interior makes it almost an indoor play zone for children.
Furthermore, 7-seater cars in Singapore are sought after by many, and with MPVs, this is not a worry as most of them can fit up to 7 people, with additional space in the boot. With capacities similar to a coach while offering the comforts of a car, this makes MPVs the most ideal car type, especially for large families.
Although 7-seater SUVs are also available, options in the market are somewhat limited. Hence, it is easier to acquire a 7-seater MPV instead as a perfect family car. A good MPV should be easy to drive, deliver lots of passenger comfort, and have plenty of room and flexibility to suit your different needs. Read on as we bring you to meet some that you might fancy.
Toyota MPVs: Your Fuel-Efficient Big Buddy
Toyota needs no introduction, and the brand's traits of quality, reliability, and usability gel with the family-centric qualities of MPVs, so it's no surprise that Toyota's MPVs have long been a popular choice in Singapore. The Toyota Wish is a prime example - an extremely popular MPV from recent history, and still ubiquitous in Singapore today.
Toyota's current MPV lineup includes a perfect first MPV for the starter family, and a luxurious model for those who want to enjoy business class comfort and grand style on the road, proving that Toyota truly offers something for everyone. And with Toyota Hybrid Technology, you can expect our Toyota MPVs' efficiency to be comparable, if not better than any other body types in the market.
Toyota Sienta Hybrid
1.5-litre with electric motor, 114hp
As the only hybrid seven-seater MPV in COE Category A, the Sienta Hybrid offers plenty of savings, especially for families or buyers who are just starting out on their MPV journey. At the same time, its impressive list of features, modest size and affordable price tag make great value for money.
The Sienta Hybrid's 1.5-litre powertrain produces 114hp and 141Nm of torque, where such power is delivered almost instantaneously thanks to the electric motor that gives the car impressive acceleration, while at the same time offering a class-leading fuel economy figure of 25km/L, giving you lots of savings at the fuel pumps.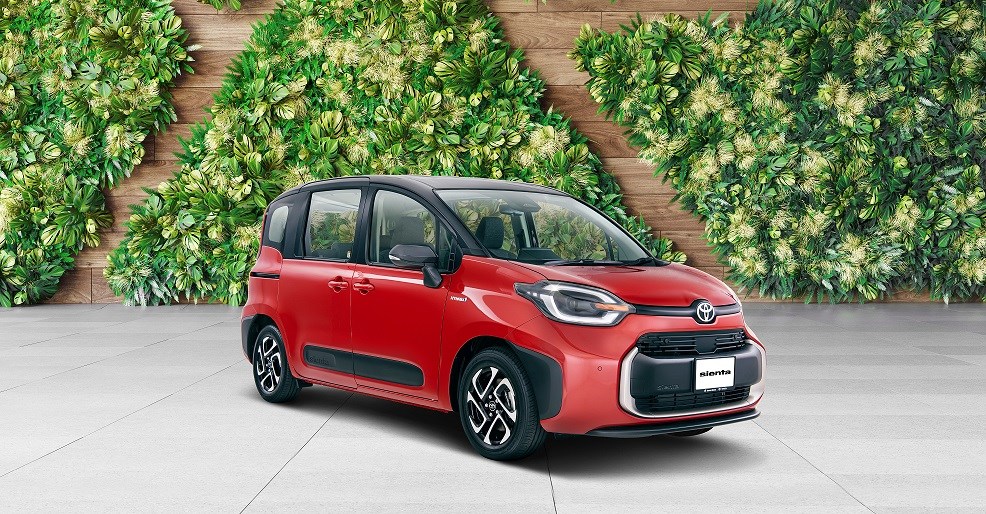 Built on the new Toyota New Global Architecture (TNGA) platform, the Sienta Hybrid delivers outstanding ride comfort and handling stability, while also keeping your family safe with its rigidity and balance.
At just under 4.3-metres long, the Sienta is easy to park, drive, and handle, thanks to its small 5.0m turning radius and manoeuvrability. The driver's ease of use is furthered by the comfortable seating position and the car's large windows that offer excellent visibility.
The telescopic tilt steering wheel ensures that the driver will be able to get an ideal driving position, and the Shift By Wire system (Elegance model only) engages driving modes automatically, making gear selection smoother and faster and improving your overall driving experience.
Passengers have it easy too: The Sienta's tall stance means it has a roomy interior with excellent headroom and lots of kneeroom. Entry into the car is easy thanks to its automatic sliding doors, as well as sunshades for extra shield on sunny days (Elegance model only).

Access to the third row is also convenient thanks to the easy to use lever, while there is lots of space for children and toddlers to stand and change if needed, as the all new Sienta has increased by 20mm in height. If you need to move cargo, the Sienta's dive-in seats reveal a spacious, flat luggage space, while loading and unloading items into the car is made easier thanks to the large boot.

Safety is also very much assured for your family, as the new Sienta comes standard with the Toyota Safety Sense suite of active safety systems. They include features such as Pre-Collision System (PCS) with Intersection Turning Assist (ITA) and Emergency Steering Assist (ESA), Dynamic Radar Cruise Control (DRCC), Lane Trace Assist (LTA) and Lane Departure Alert (LDA), while six airbags ensure that you'll be well protected.
Find out more about Toyota Safety Sense here.
Toyota Alphard Hybrid
2.5-litre with electric motors, 4WD, 194hp

As one of the largest MPVs on the market, the Alphard Hybrid brings business class motoring to you. Extremely popular as an MPV for business use, the Alphard is often the vehicle of choice to drive around the most esteemed guests and corporate partners thanks to its luxurious interior and generous space, while it is also suitable for big families as well.

The Alphard's size means it has an enormous amount of interior room, but it doles out the red carpet treatment for occupants the moment it rolls up. It's easy to get into, thanks to its height and automatic sliding doors. The passengers can then settle into the second-row's powered and multi-adjustable Captain Seats, which can even recline like the seats on a business class flight. The twin moonroof, customisable ambient lighting and 3-zone independent air conditioning further enhances the level of comfort for passengers.

Featuring a 2.5-litre full hybrid powertrain, the Alphard Hybrid can deliver a fuel consumption figure of 15km/L, making it as efficient as a much smaller car, and could potentially cover more than 1,000km on a single tank of fuel. At the same time, the silent and smooth operation of the hybrid powertrain helps to deliver an even more luxurious travelling experience in the Alphard Hybrid.
The Alphard Hybrid also has Toyota's "E-Four" four-wheel-drive system, which uses a motor-driven and wire-controlled system to power the front and rear wheels, translating into superior performance in acceleration, handling & stability and uphill performance.
Safety for your guests and partners is also guaranteed, with the Alphard Hybrid coming standard with the Toyota Safety Sense suite of active safety systems, which includes features such as Pre-Collision System (PCS), Dynamic Radar Cruise Control (DRCC) and Lane Trace Assist (LTA) while seven airbags will offer even greater assurance of protection.
More on Toyota hybrids article and video here.
Which is the right MPV for you?
While space would be an important consideration, you may also want to consider other factors, like going for a hybrid MPV to help you save on fuel costs, and any other useful or convenient features that will make your driving experience much more enjoyable.
If you're a small family or someone who's just starting out on your MPV journey, then you would probably consider the Sienta Hybrid, which offers an excellent combination of space, efficiency, drivability and value. For those who need a larger MPV to ferry important guests or extended family members, then the Alphard Hybrid is the perfect choice if you want something spacious, luxurious and yet fuel-efficient.
Check out our MPVs range for their brochure here: Toyota Sienta Hybrid, Toyota Alphard, Toyota Prius+, Toyota Vellfire
If you're ready for a ride, book a test drive to check the MPVs out for yourself today!