SHOCK ABSORBERS
Shock absorbers are one of the vital parts of your car. Not only do they protect you from bumps and vibrations, they also help to maintain road contact and improve everything from safety to handling. With so much riding on this component, it is important to choose Toyota Genuine Shock Absorbers.
Toyota Genuine Shock Absorbers
Drive comfortably and safely with Toyota Genuine shock Absorbers
Why are shock absorbers important?
This suspension component helps to:
-

reduce bumpy rides

-

keep rides planted on the road

-

increase comfort and stability
When to replace shock absorbers?

After driving for at least 5 years

Swerving, bumpy, unstable drive
Identify the difference
Counterfeit
vs

Wheels hops can occur when going over bumps.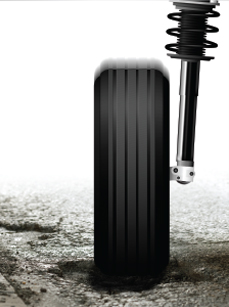 Wheels are planted firmly on the road for a stable ride.
Why choose Toyota Genuine Shock Absorbers?

Best Settings
Specifically
designed for Toyota

High Quality Materials
Long lasting reliability

Rust Resistant
Cation-coated surface to reduce corrosion

Perfect Fit
Includes specific bushings for your Toyota
Prices from $218 onwards.
Ready for your servicing?