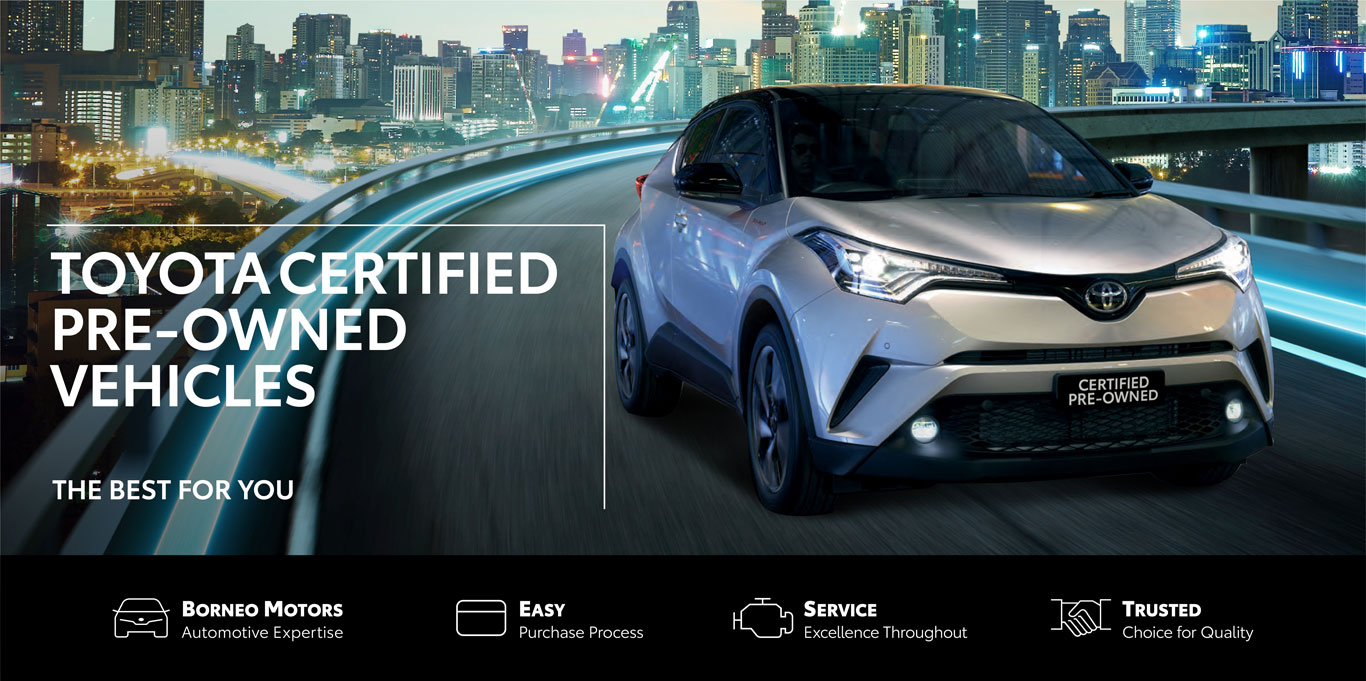 THE BEST FOR YOU.
Borneo Motors has a long and successful relationship with Toyota, dating all the way back to 1967. So, for over 50 years, we've focused on creating exceptional experiences for every Toyota customer in Singapore.

We know only the best Toyota Certified Pre-owned vehicles are good enough for you, so we'll never offer one that doesn't meet our high standards. This includes ensuring that every pre-owned vehicle has received a full 145-point vehicle certification—covering everything from the steering to the seat belts, whatever it takes to ensure the vehicle is in great working condition. We also check they have an approved service history and are free of accidents* that would affect the vehicle's structural integrity. For added peace of mind, the cars are further protected with a minimum one-year comprehensive warranty with unlimited mileage to ensure a smooth and worry-free journey.

You deserve the BEST. So, if you've decided to purchase a pre-owned car, make sure it's a Toyota Certified Pre-Owned Vehicle.

*Accident-free refers to no damages on the chassis.
Buying a certified pre-owned Toyota is as easy as it can be, with a user-friendly experience both online and in our showrooms, and professional treatment from our helpful Toyota Certified Sales & Purchase Team. The purchase process covers everything from financing to insurance, so it's a totally seamless experience.
Even after you drive away in your pre-owned Toyota, you'll still receive the BEST treatment, with a minimum 12-month comprehensive warranty, complimentary servicing and 24/7 roadside assistance.
The BEST Ownership Experience
To explore the full range of our Certified Pre-Owned vehicles, visit our showrooms for a truly hassle-free service, including total price transparency with no hidden charges. We'll even make selling your existing vehicle easy, with a prompt and convenient valuation process for you.