Why the Toyota Camry and Harrier are the Best Luxury Hybrid Cars on the Market
For the discerning car buyer who seeks quality, luxury and energy efficiency, here are a few reasons why the Toyota Camry Hybrid and Harrier Hybrid are the perfect cars for you.
Even as electric cars are becoming the cars of choice in the near yet distant future, the next best fuel-efficient alternative for the foreseeable future is still a luxury hybrid car.
Why? Simply put, it offers the best of both worlds. You get the class leading fuel economy among its peers, while enjoying the premium features of a luxury car.
Among luxury hybrid cars on the market, the Toyota Camry Hybrid and the Toyota Harrier Hybrid are one of the best options. Here are 3 distinctive elements that makes them the top choice:
1. Premium Features
Interior comfort features such as ventilated leather front seats* and dual-zone airconditioning will help you stay cool in Singapore's hot and humid weather. Enjoy maximum convenience with wireless phone charging, Apple CarPlay and Android Auto Connectivity functionalities. Other features include rain-sensing automatic windscreen wipers and a large head-up display* that pops up over the driver dashboard to help you keep your eyes on the road.

* For Camry Hybrid, only available in Elegant Variant, Standard across all Harrier Hybrid Grade

2. Toyota Hybrid System
With 15 million hybrid cars sold over the course of 30 years, Toyota's pioneering hybrid technology features a 2.5 litre Dynamic Force Engine with an electric motor generator that allows you to drive further and for longer, with up to 55% more efficient fuel economy than ICE cars.
Our hybrid technology utilises a regenerative braking system, where energy is harnessed while braking to recharge the battery. While stationary or cruising, only the electric engine is utilised until the need for speed activates the petrol engine intermittently. With its self-charging capability, Toyota hybrid cars – which includes the Toyota Camry and Harrier – do not need to be charged by an external power source, saving you the hassle of looking for charging stations on the road.
Last but not the least, while most of the other brands on the market are mild hybrids, Toyota is one of the very few that offers full hybrid engine cars for the best fuel economy possible.
3. Toyota Safety Sense (TSS)
The Toyota Camry and Harrier hybrid cars are equipped with the leading-edge Toyota Safety Sense features with enhanced hazard detection, such as the Pre-Collision System – an automatic alert and braking system when oncoming vehicle/pedestrian is likely to collide, and Dynamic Radar Cruise Control (DRCC) – an anti-tailgating feature that detects speed & distance of the car in front of you and maintains a safe following distance. Furthermore, they also have an advanced feature, Land Tracing Assist (LTA), that keeps the car centered in lane when using DRCC, thereby reducing driver's fatigue. You can find more about Toyota Safety Sense features here. If protecting yourself & your loved ones if a priority, you can't go wrong with these 2 models.

While they share similar features, each Toyota Luxury Hybrid model has its own unique characteristics that caters to you whether it is for daily journey or a superior drive in dignified elegance.
The Toyota Camry Hybrid: An enduring sedan for all your lifestyle needs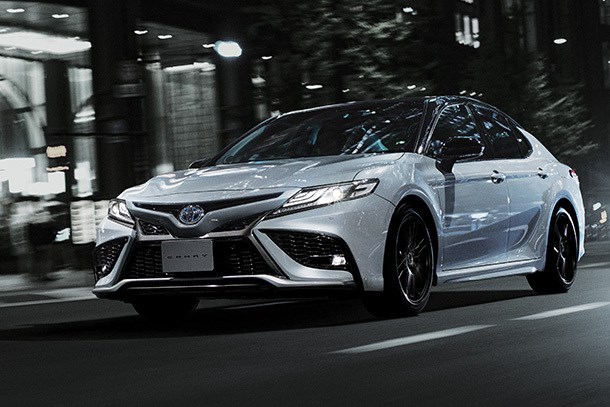 For four decades, the Toyota Camry has represented the very best of Toyota, and for many generations of drivers, the Camry marks the pinnacle of Toyota's enduring quality and dependability, having stood the test of time over the years.
The second-generation hybrid variant has a fuel economy of 21.2km/L, the best ever in a Camry. The innovative EV mode also helps reduce noise and emissions, for the quietest ride possible.
This sleek and sporty car is not only a head turner but also has a generous 524 litre boot, for all your lifestyle needs.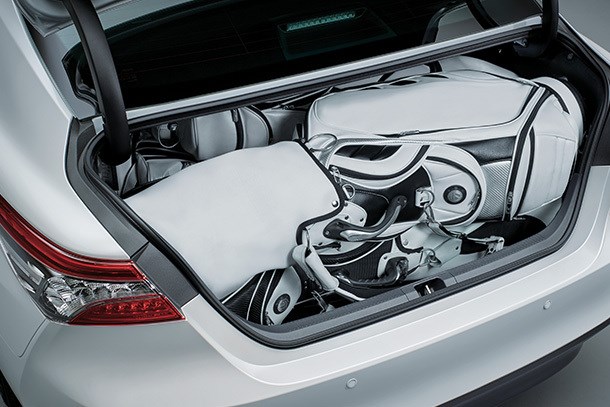 The Toyota Harrier Hybrid: The luxury SUV marked as a Symbol of Status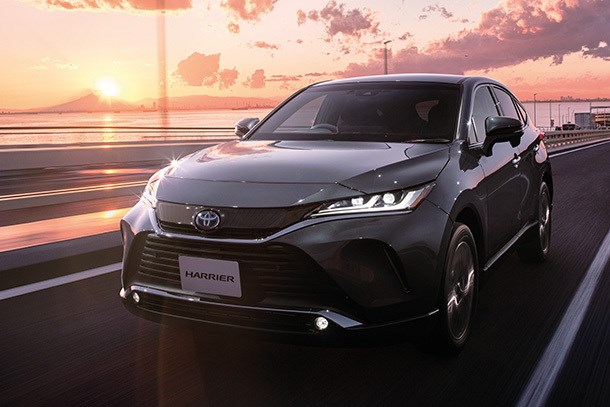 If you are looking for a luxurious yet practical SUV where elegance meets functional beauty, the Toyota Harrier checks all the boxes. Its iconic style, coupled with premium interior & safety features, lets you experience effortless class with exhilarating performance.
Premium interior features that you don't find in most luxury cars & exclusively in the Harrier Luxury Grade are the digital rear-view mirror and dimmable panoramic moonroof for an ambient drive at night. The nanoe™X ion generator air-condition system suppresses allergens and odours, ensuring comfort for your loved ones. The 60:40 split-folding rear seats and roomy boot that can fit 2 suitcases easily give you the storage versatility for family adventures.

You'll also be strapped with extra safety features such as the Blind Spot Monitor with Rear Cross Traffic Alert, which notifies you of vehicles in your blind spot, and warns you of approaching cross traffic while you're reversing. The Parking Support Brake uses sensors to detect objects or vehicles approaching from the rear and helps stop an impending collision.
Additional benefit of driving a Toyota Luxury Hybrid Car
Toyota's Luxury Hybrid models net a generous S$15,000 rebate under the Vehicular Emissions Scheme (VES), part of the Singapore's Government plan to make cleaner energy vehicles even more attractive to consumers. As a result, Toyota's Luxury Hybrid models not only offer excellent value, but they also fall in line with Singapore's strategy to promote an even greener environment for future generations.
Going for a Toyota Luxury Hybrid Car means making the smarter choice, as it means you get comfort, luxury, safety and efficiency in a package that offers great value for your money. Check it out for yourself by booking a test drive and enjoy a personalised experience like no other.