Easy Guide to Buying a MPV (Multi-Purpose Vehicle)
Multi-purpose vehicles, commonly known as MPVs, have earned their popularity as ideal family cars due to their remarkable capacity to accommodate multiple passengers comfortably. These vehicles typically offer seating for at least six or seven individuals, making them the perfect choice for families of all sizes or individuals who frequently transport large groups.
One of the key distinctions that set MPVs apart from other vehicle types, such as SUVs, is their specialized focus on passenger transportation. Unlike SUVs, which are designed for versatility, MPVs prioritize passenger comfort and convenience. This focus is evident in their spacious interiors, thoughtfully crafted cabin layouts, and innovative features like sliding doors, which enhance accessibility to the vehicle's interior.
For those considering the purchase of an MPV, it's essential to weigh several factors before deciding. These considerations will help you select the MPV that best suits your needs and preferences, ensuring that you and your passengers can enjoy a comfortable and convenient ride.
1. Car Size and Dimensions
MPVs, like all cars, come in a range of sizes, from small to medium to large. However, due to their primary purpose as people carriers, many MPVs lean towards the larger end of the spectrum to accommodate extra seats and passengers. It's essential to experience a test drive in an MPV to assess whether its size suits your comfort and handling preferences.
When driving a larger vehicle like an MPV, visibility becomes a crucial consideration. Evaluate the ease of visibility, especially in rearward directions. In cases of limited visibility, explore whether the MPV is equipped with driving assistance safety systems to mitigate these challenges.
These advanced features may encompass technologies like reversing cameras to aid parking and manoeuvring, or blind-spot detection systems that warn you of vehicles or obstacles in your blind spots. Additionally, consider the presence of reverse collision mitigation systems, which can identify pedestrians or obstacles in your path and provide warnings or apply automatic brakes if necessary to prevent collisions. Ensuring these features align with your needs can enhance your driving experience and safety.
2. Number and types of seats
MPVs vary in size and seating options to cater to diverse needs.
To choose the right MPV, consider your typical passenger count. If you often travel with both children and parents, a six-seater or larger MPV is a better choice. For smaller families like you, your spouse, and a couple of kids, a six -seater MPV should suffice.
Regarding seating arrangements, a standard seven-seater MPV typically comprises three rows of seats. Take the Toyota Sienta Hybrid, for instance, which offers convenient access to the last row with one-touch folding middle row seats.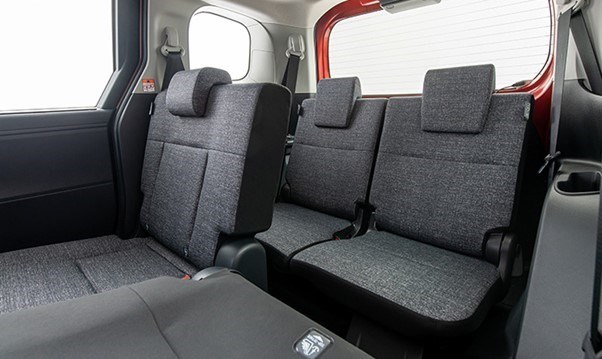 Image: Interior of Toyota Sienta
However, be aware that the last row might have limited space and legroom, making it more suitable for children or smaller adults on short trips. Some manufacturers may label the seating layout as '5+2,' indicating that the rear two seats are designed for smaller individuals, while a 7-seater may provide more room in the back.
It's essential to evaluate seat comfort in the MPV for your regular passengers.
3. Accessibility
MPVs typically feature four accessible doors, like most cars. Accessing the last row of seats often involves some form of folding or adjustment of the second-row seats. Therefore, it's important to consider how easily the second-row seats can be folded and how convenient it is to reach the third row. Additionally, some MPVs come equipped with sliding rear doors, which can make access more convenient, especially in tight spaces.
A noteworthy configuration found in certain MPVs includes two individual seats in the second row, creating a "walkway" between them. These seats are sometimes referred to as "captain seats." This arrangement proves particularly beneficial for parents who need to reach the third-row passengers, as it allows them to move through the cabin without the necessity of folding down the second-row seats. Such a configuration is available in models like the Toyota Alphard and Toyota Vellfire, offering enhanced convenience and ease of access for families on the go.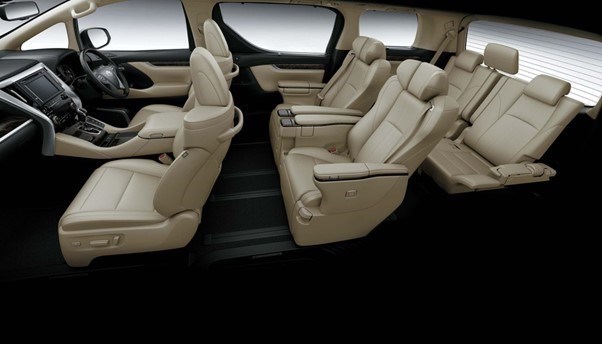 Image: Interior of Toyota Alphard
4. Storage space
MPVs are a popular choice for families, making interior storage space an essential consideration for prospective buyers. Explore the cabin to find hidden storage compartments designed to stow away items like gadgets, toys, or other smaller essentials for your kids or passengers.
It is worth noting that seven-seater MPVs typically have a smaller boot space compared to similar-sized hatchbacks or SUVs as it accommodates a third row of seats. However, most MPVs offer the flexibility of folding down the third-row seats to create additional boot space when needed. Therefore, before making your purchase, be sure to assess the usable luggage space in the MPV in various seating configurations to ensure it meets your family's needs.
5. Comfort and convenience features
MPVs, designed primarily for passenger transport, often come equipped with features that enhance the comfort of travellers. In larger MPVs, a valuable amenity is individual rear air conditioning vents, ensuring that the ventilation system effectively reaches passengers in the rear seats.
These versatile vehicles may also offer additional convenience features, such as fold-out tables on the back of the front seats, multiple USB ports, and 12-volt power sockets for hassle-free device charging, or rear window blinds designed to shield passengers from sun glare and excessive heat.
Furthermore, for MPVs with sliding doors, it's worth checking if these doors are equipped with automatic power operation. This feature can be particularly handy, especially on larger MPVs where the doors can be hefty. While it's increasingly common in newer models, older MPV versions may not have this convenience feature, so it's worth considering when making your selection.
6. Safety Features
Safety features are paramount considerations when purchasing any vehicle, including MPVs. When you're in the market for an MPV to transport your family, it's crucial to take note of the key safety features included.
One particularly essential feature for MPVs is a rearview camera, invaluable for parking and reversing manoeuvres. MPVs often boast larger dimensions, which can slightly diminish visibility compared to regular cars. Hence, a rearview camera becomes an invaluable tool for preventing inadvertent collisions during backing up.
For parents with young children, another vital consideration is the presence of ISOFIX anchor points, particularly for the rear seats. These anchor points facilitate the easy and secure attachment of child seats, not only enhancing convenience but also ensuring that kids can be comfortably seated and safely strapped in for the journey. Prioritizing these safety features can contribute to a safer and more secure travel experience for your family.
Toyota Safety Sense is an advanced suite of driver assistance features designed to enhance safety on the road. It includes technologies such as pre-collision systems, adaptive cruise control, lane departure alert, and automatic high beam all working together to help prevent accidents and improve overall driving confidence. Toyota has made this safety package standard in many of its vehicles, underscoring the company's commitment to prioritizing driver and passenger safety.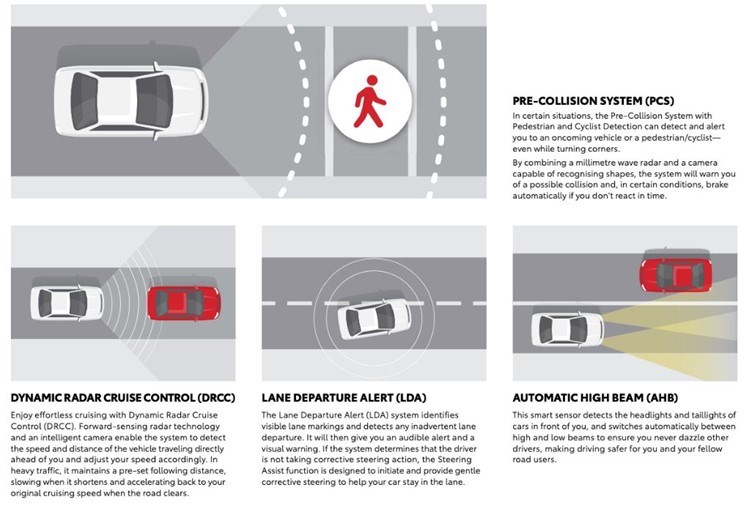 7. Efficiency
MPVs, designed to accommodate larger passenger loads, often exhibit slightly lower fuel efficiency compared to equivalent-sized sedans. This difference in efficiency can be attributed to factors like increased weight and less aerodynamic design.
It's important to note that actual fuel efficiency figures can vary significantly between different MPV models and manufacturers. Various factors influence fuel economy, including engine size, power output, and overall vehicle weight. Smaller-sized MPVs with compact engines may offer fuel consumption figures similar to those of small hatchbacks. Conversely, larger MPVs with more powerful engines tend to be less fuel-efficient. In general, the size of the MPV plays a significant role in its fuel efficiency.
In recent years, hybrid and electric-powered MPVs have emerged as eco-friendly alternatives that surpass the efficiency of conventional internal combustion engine (ICE) vehicles. These environmentally conscious vehicles often feature regenerative braking to recover energy and rely on electricity generated from the grid, reducing reliance on fossil fuels.
While specific fuel consumption figures can vary widely among different MPV models, an average consumption rate of around 10 km per litre or higher is considered above average for an MPV. Some hybrid-powered MPVs can achieve impressive fuel consumption figures exceeding 15 km per litre, although these models are generally smaller in size and may not offer the spaciousness of larger MPVs. For instance, Toyota's MPVs, such as the new Vellfire boasts fuel efficiency figures of 17.2 km per liter, while the Sienta achieves an impressive 25 km per litre.