Choose Your Weekend Adventure, Choose Your Next Car
Are you looking to plan your next big weekend road trip?

With adventure resorts and kitschy restaurants cropping up everywhere that provide the perfect backdrop to your Instagram feed, the choice for your next road trip can be dizzying. And planning your commute should be the last thing you should be worrying about!
Here are some of our top picks for your next set of travels that you can take right now, in your trusty Toyota.
Vios: Take the road less travelled with something a little unconventional
Why take the bus when you go on a road trip to Kuala Selangor? The Vios features a spacious cabin, meaning your friends have enough room for the 5-hour drive north that takes you to a little town famous for its shimmering firefly colony. Explore the small villages and architecture of Bukit Rotan and be one with nature at Bukit Melawati. And the drive up is worth it if only for the fresh seafood on offer. Fishing boats are towed in after a day's work with some of the freshest catches you can find north of the border.

If staying in Singapore is more your speed, but you still have a hankering for fresh seafood, drive up to the Senoko Fishery Port that houses over 30 licensed merchants selling fish straight off the boat!

And what better way to bring back your next meal (and happy bellies) than in your Vios? Pack your bags, big or small, and see why it's the perfect sedan for adventure.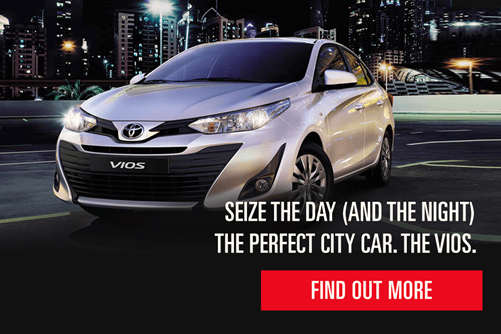 RAV4: The right car for your active life
Looking for a sporty drive that matches your active lifestyle? Let your RAV4 take you on your next adventure.
Fancy a scuba diving or snorkeling session? With its world-class undersea vistas, the Pulau Payar Marine Park on Malaysia's West Coast is just the spot for you. You don't have to worry about fitting in all your gear as the RAV4's expanded luggage compartment fits items of all shapes and sizes; largely thanks to the 60:40 split fold rear seats, which lets you configure the space in different ways.
What's more, the RAV4's new trailing wishbone suspension gives you precision handling and stability, making sure that your drive on the (less than even) road to the Kuala Perlis ferry terminal is in pure comfort.
Discover the thrills of leading a life on the move when you drive the all-new RAV4. With this sporty, safe and spacious ride, your weekend expeditions are all set.

Take the perfect ride to your weekend destination, whether it's the rugged outdoors or the bustling city. Visit Toyota's online showroom today and get started on your next adventure.