Choose Your Weekend Adventure, Choose Your Next Car
Are you looking to plan your next big weekend road trip?
With adventure resorts and kitschy restaurants cropping up everywhere that provide the perfect backdrop to your Instagram feed, the choice for your next road trip can be dizzying. And planning your commute should be the last thing you should be worrying about!
Here are some of our top picks for your next set of travels that you can take right now, in your trusty Toyota.
Vios: Sometimes the road less travelled is just around the corner
We're all spending more time in Singapore these days, so why not spend your weekends exploring new parts of our island home?
The Vios features a spacious cabin, meaning your friends or family will have plenty of room if you decide to head to Sungei Buloh to see if you can spot the famous tail-less crocodile. Perhaps you'd prefer to chill on Sentosa's Siloso or Tanjong beaches, take a picnic to the East Coast or explore the zoo, Night Safari or River Safari? Maybe visit a famous food centre outside of your own neighbourhood and decide for yourself if their dishes are worth the hype.
Whatever you choose to do, the Vios is the perfect vehicle for any weekend exploration. So pack your bags, big or small, and see why it's the perfect sedan for adventure.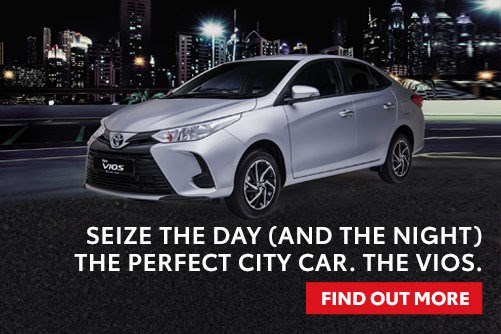 RAV4: The right car for your active life
Looking for a sporty drive that matches your active lifestyle? Let your RAV4 take you on your next adventure.
There are no end of cycling tracks to explore in Singapore—from the gentle Park Connectors or East Coast Park to the full-on Ketam trail on Pulau Ubin or the winding tracks of Chestnut Park. You don't have to worry about fitting in all your gear (or even your bike) as the RAV4's expanded luggage compartment fits items of all shapes and sizes; largely thanks to the 60:40 split fold rear seats, which lets you configure the space in different ways.
What's more, the RAV4's new trailing wishbone suspension gives you precision handling and stability, making sure your drive to and from every challenge is made in pure comfort.
Discover the thrills of leading a life on the move when you drive the all-new RAV4. With this sporty, safe and spacious ride, your weekend expeditions are all set.

Take the perfect ride to your weekend destination, whether it's the rugged outdoors or the bustling city. Visit Toyota's online showroom today and get started on your next adventure.