Toyota Production System
Motor Corporation's vehicle production system is sometimes referred to as a "lean manufacturing system" or a "Just-in-Time (JIT) system," which is well known and widely studied around the globe. This production control system has been established based on many years of continuous improvements, with the objective of "producing vehicles for customers in the quickest and most efficient way."
The Toyota Production System (TPS) was established based on two concepts:
Jidoka
Which means that when a problem occurs, the equipment stops immediately, preventing defective products from being produced.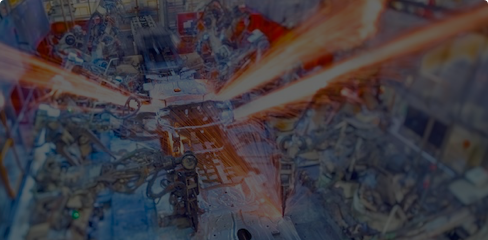 Highlighting/visualization of problems
---
Quality assurance at every stage of the manufacturing process
If equipment malfunction or a defective part is discovered, the affected machine automatically stops, and operators cease production and correct the problem.
For the Just-in-Time system to function, all of the parts that are made and supplied must meet predetermined quality standards. This is achieved through jidoka.
1. Jidoka means that a machine safely stops when the normal processing is completed. It also means that, should a quality / equipment problem arise, the machine detects the problem on its own and stops, preventing defective products from being produced. As a result, only products satisfying quality standards will be passed on to the following processes on the production line.
2. Since a machine automatically stops when processing is completed or when a problem arises and is communicated via the "andon" (problem display board), operators can confidently continue performing work at another machine, as well as easily identify the problem's cause to prevent its recurrence. This means that each operator can be in charge of many machines, resulting in higher productivity, while continuous improvements lead to greater processing capacity.
Just in Time
Each process produces only what is needed by the next process in a continuous flow.
Productivity improvement
---
Producing only what is needed, when it is needed, and in the amount needed
Producing quality products efficiently through the complete elimination of waste, inconsistencies, and unreasonable requirements on the production line.
In order to deliver a vehicle ordered by a customer as quickly as possible, the vehicle is efficiently built within the shortest possible period of time by adhering to the following:
1. When a vehicle order is received, a production instruction must be issued to the beginning of the vehicle production line as soon as possible.
2. The assembly line must be stocked with required number of all needed parts so that any type of ordered vehicle can be assembled.
3. The assembly line must replace the parts used by retrieving the same number of parts from the parts-producing process (the preceding process).
4. The preceding process must be stocked with small numbers of all types of parts and produce only the numbers of parts that were retrieved by an operator from the next process.