TGR GT Cup Asia 2021
TOYOTA GAZOO Racing (TGR) GT Cup ASIA 2021
Rev up to the Regional Finals and the chance to compete on the world stage!
▪ Enhanced game formats amp up excitement and offer more opportunities for e-racers to win
▪ Two guaranteed places in the Global Finals for top Regional winners
(31 May 2021) Singapore - The race is on for the fastest e-Motorsport racers in Asia to compete with the best in TOYOTA GAZOO Racing (TGR) GT Cup ASIA 2021 in "Gran Turismo SPORT" on PlayStation®4*1 (PS4®).
This regional competition aims to deliver Toyota's commitment to making it possible for thousands of motorsports enthusiasts to experience the thrill of racing Toyota GR cars on iconic racing circuits.

Scheduled in late October 2021, the TGR GT Cup ASIA 2021 game formats have been enhanced to offer every racer a fighting chance to clinch the top two coveted places to progress to the Global Finals of the TGR GT Cup 2021. Countries will also be ranked in a new Award System.

TOYOTA GAZOO Racing (TGR) GT Cup ASIA 2021: Format of Play

National Finals Race (Singapore)
Prior to the Semi-Finals, there will be a National Finals Race to determine the top three qualifiers for each participating country. For Singapore, the National Finals Race is scheduled for September 2021. Local e-Motorsport racers who clinch the top three positions will not only win the chance to compete in the Semi-Finals against top qualifiers from Thailand, Malaysia India, Indonesia, Taiwan and Korea. They will also be awarded with cash prizes of SGD 3000 (Winner), SGD 2000 (1st Runner-Up) and SGD 1000 (2nd Runner-Up).

Semi-Finals Race
The top three qualifiers from each national team in Thailand, Singapore, Malaysia, India, Indonesia, Taiwan and Korea will compete in the Semi-Finals. These 21 qualifiers will kick off the TGR GT Cup ASIA 2021, by competing within their respective groups in the newly introduced GR Yaris on the Tokyo Expressway racing circuit.

The top five racers in each group will go straight into the Final Race.

The remaining 11 racers will then compete in the Consolation Race on the Fuji Speedway circuit, in the GR Supra'20 as their last bid for a place at the Final Race.

TGR GT CUP ASIA 2021 (Semi-Finals, Consolation, Final)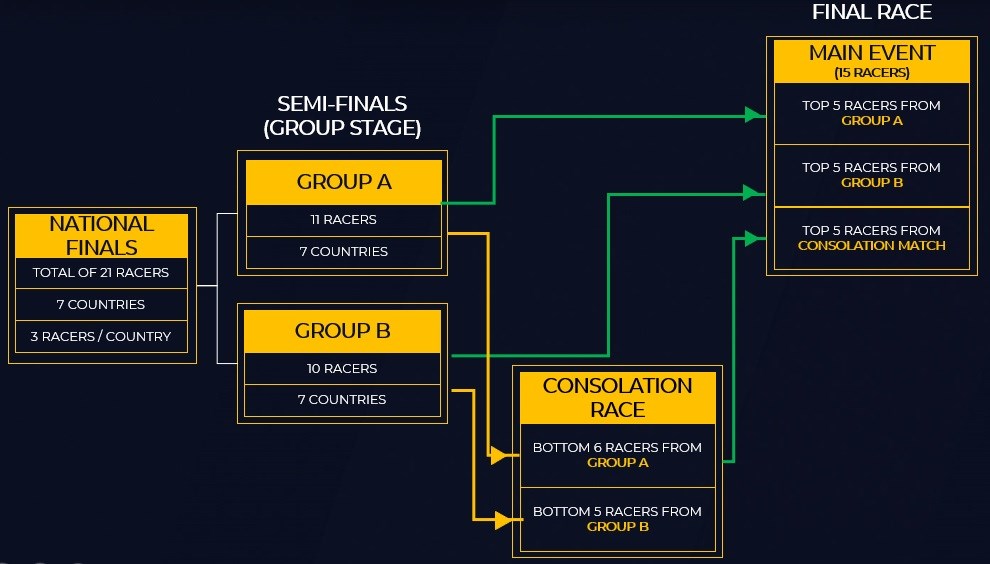 Final Race
The Final Race of the TGR GT Cup ASIA 2021 will see 15 racers pushing their limits on two exciting tracks with equally thrilling, high performance vehicles.

The first round will take place on the Spa-Francorchamps circuit in Belgium, which is also the circuit used by the Formula One Belgian Grand Prix. Drivers will get heart-pumping experience with the recently launched GR 86, that has been tuned for sports racing, capable of 0-100 km/h acceleration in just 6.3 seconds.

The second round will take place on the iconic Le Mans circuit in France. This is one of the few remaining circuits around the world that uses public roads for the famous Le Mans 24 Hours endurance race. Racers will experience the TS050 HYBRID, that had won the Le Mans 24 Hour Endurance Races three consecutive years from 2018. This vehicle has since been further improved to deliver an overall maximum power train of 735 kw, which racers can experience in the race.

TOYOTA GAZOO Racing (TGR) GT Cup 2021: Global Finals Eligibility

Two places from among the 15 regional qualifiers have been guaranteed in the year-end Global Finals of the TGR GT Cup 2021. Our top two regional finalists will have the chance to flex their driving skills shoulder to shoulder with some of the world's best e-Motorsport racers.

To be eligible to compete in the Global Finals – all competitors must also fulfil the criteria of having driven in at least four of the seven global qualifiers. There are now just four remaining rounds. This is the final opportunity for racers to sign up if they have not participated in the earlier global qualifying races.
The Schedule for the last four global qualifying rounds is as follows:
| ROUND | DATE | CAR | COURSE |
| --- | --- | --- | --- |
| 4 | 6 June 2021 | 2000GT | The Nürburgring (Germany) |
| 5 | 4 July 2021 | GR Supra RC | Autódromo José Carlos Pace (Brazil) |
| 6 | 18 July 2021 | GR Yaris | Sardinia (Italy) |
| 7 | 22 August 2021 | GR 86 | Mount Panorama (Australia) |
Detailed information can be found on TGR GT Cup section of the TGR official website. URL: https://toyotagazooracing.com/e-motorsports/
Millions of Spectators Expected
The TGR GT Cup 2021 is expected to draw millions of spectators. E-Motorsport enthusiasts will be kept at the edge of their seats as they find themselves in the thick of the action with racers revving their engines to negotiate the circuit tracks to seize pole positions.

Viewing times of the Race will be available at https://toyotagazooracing.com/e-motorsports/

A Racing Heritage of More Than 60 Years

The TOYOTA GAZOO Racing ethos builds on a heritage of more than 60 years of excellence in "making ever-better cars". This heritage has celebrated Toyota's many successes in the most extreme conditions. The latest landmark victory was clinched in the 6-hour FIA World Endurance Championship (WEC) at Spa-Francorchamps. This saw a dramatic and tense battle in the GR010 Hybrid with other hypercars and marked TOYOTA GAZOO Racing's fifth consecutive win in Belgium.

More information on TGR GT Cup ASIA 2021 Regional Finals, registration details and announcements will be available at the Toyota local website in June 2021.

Detailed information including the circuits to be used in each round of the TGR GT Cup 2021 is now available in the TGR GT Cup section of the TOYOTA GAZOO Racing official website.

https://toyotagazooracing.com/e-motorsports/

*1 "PlayStation", "PS5", and "PS4" are registered trademarks of Sony Interactive Entertainment Inc.
© 2019 Sony Interactive Entertainment Inc. Developed by Polyphony Digital Inc. "Gran Turismo" logos are registered trademarks or trademarks of Sony Interactive Entertainment Inc.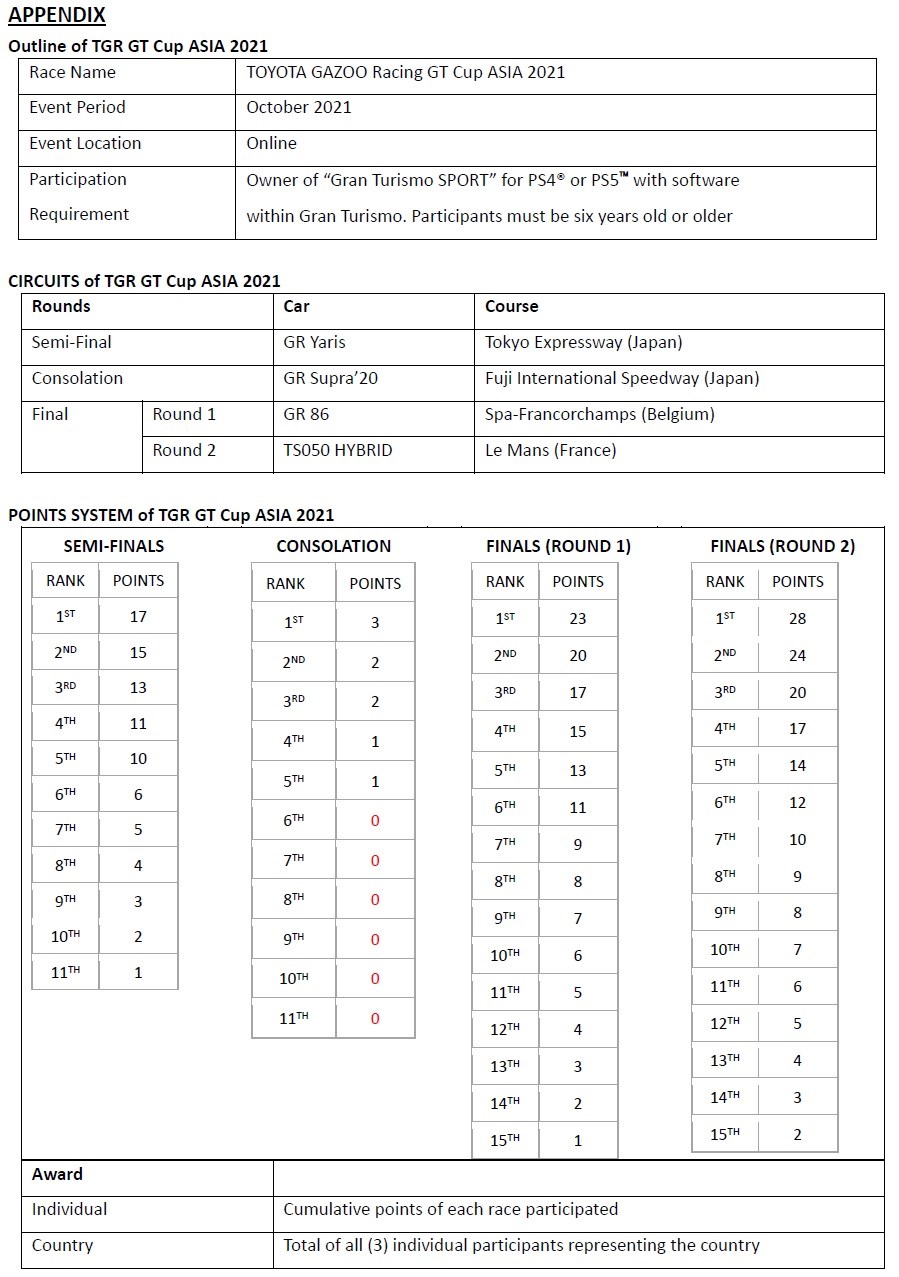 About the TGR GT Cup ASIA 2021
TGR GT Cup ASIA 2021 is the regional online race, which will bring together the top gamers from each of the participating countries in Asia to pit their skills with each other.
Players will race in "Gran Turismo SPORT" on their PlayStation®4*1 (PS4®) in the selected Toyota GR line-up. Global qualifying races will be held from April to August 2021, with the top gamers coming together in the final championship showdown in the Global Finals of TGR GT Cup 2021 in December.
Under the global vision of TOYOTA GAZOO Racing, e-Motorsport has evolved to be one of the key pillars of TGR motorsport activities and is an exclusive platform to engage with the increasing motorsport-lovers around the world.
About TOYOTA GAZOO Racing (TGR)
TOYOTA GAZOO Racing (TGR) is TOYOTA's racing company where motorsports activities are key in the company's pursuit in product development with feedback and learnings gained on tough racing roads under harsh environment, with an aim to make ever-better cars.
About Toyota Motor Asia Pacific
Toyota Motor Asia Pacific [TMAP] is incorporated in Singapore and is the regional corporate headquarters and subsidiary of Toyota Motor Corporation.
TMAP leads and supports the Asia Pacific region in sales and marketing activities, service parts, accessories and customer services, thus contributing to the overall development of auto industry and the growing economies in the region.
Toyota envisions the future mobility society to bring freedom of movement to all. Moving forward, Toyota will provide a diverse range of mobility services and transportation solutions to people around the world as we transform Toyota into a mobility company.

For more information, please contact:
Zeno Group on behalf of Borneo Motors
Email: BorneoMotorsSG@zenogroup.com
About Borneo Motors (Singapore)
Borneo Motors (Singapore) Pte Ltd is a subsidiary of Inchcape PLC (LSE: INCH), a leading global automotive distribution and retail group traded on the London Stock Exchange and has been Singapore's sole authorised distributor for Toyota for over 50 years.