Toyota's RAV4 revived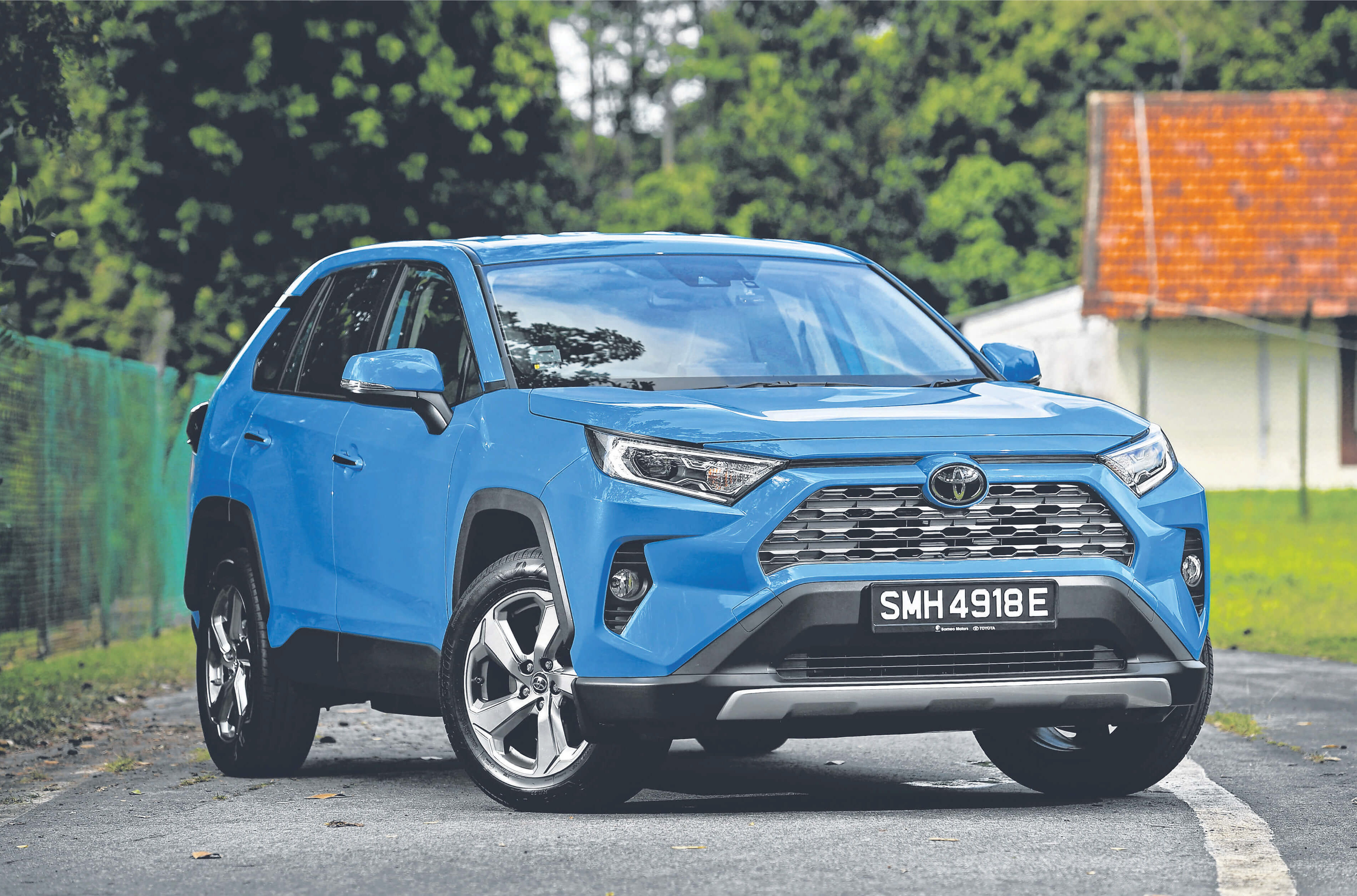 [ This article was first published on www.straitstimes.com ]
Review by Christopher Tan, Senior Correspondent. ST PHOTOS: Chong Jun Liang
When the first Toyota RAV4 appeared a quarter of a century ago – when SUVs were not yet mainstream – it created quite a stir with its modern yet rugged design.

But the model gradually lost its shine as time went on. While a slew of bigger, better and funkier SUVs arrived on the scene, Toyota receded into conservatism.

The fifth-generation RAV4 is likely to change things. The car sports an edgy pentagon-themed styling, with its grille, headlights and side profile conforming to the geometric shape.

It is a striking design which communicates tension and strength. It also gives the car a strong road presence, without the loud and fussy shape which the Toyota C-HR prescribes to.

It is about the same length as its predecessor, but wider and with wheels pushed farther to the corners. Parked next to a Land Rover Discovery Sport, the car is not dwarfed, ceding only minimally to the Landie's height and width.

The car is actually wider than the Toyota Harrier, has a longer wheelbase and is lighter by 135kg.

So even though it does not have a turbo engine, the RAV4 feels nippy at the wheel. Its power plant is essentially the same one found in its predecessor, but tuned to produce more.

With 170bhp and 203Nm of torque, it proffers stress-free motoring which only Toyota seems to have mastered. It is not just the powertrain, whose output is adequate but nothing to write home about.

It is how that output is put to use. The car's continuously variable transmission has a fixed first gear like in the Lexus UX, with which it shares many parts. This gives it a sense of urgency, especially at low revs.

Power delivery is seamless, with revs piling up linearly and fairly quickly to 4,000rpm, although most tasks can be accomplished between 2,000rpm and 3,000rpm.

The car is well insulated against vibrations and unwanted noises, again contributing to its relaxed state.

Every twirl of its well-weighted and tight steering wheel is accompanied by gentle body movements which are completely in sync.

It is a feat, given the car's SUV setup and its comfort-biased chassis.

The RAV4 rides extraordinarily well, with damping action that takes the edge out of the nastiest speed regulators.

Yet, the car is not averse to brisk cornering, completing the task with neutrality and an acceptable amount of body roll.

While it does not have the verve and drama which makes some cars fun, the new RAV4 is a thoroughly likeable carrier which demands very little of you.

The only unlikable thing on it is its infotainment set, which is a button-lined screen with old-school digital display. It would have been all right in the first-generation RAV4, but not here and now.

There are plans to replace it with a proper colour touchscreen, which hopefully will include reverse camera. Thankfully, there are other nice touches onboard, such as wireless phone-charging, electric parking brake with auto hold, powered tailgate with a wide boot access, adaptive cruise control with lane departure warning and pedestrian detection.

Outdoorsy features such as rubber mat boot lining, rubber-lined controls and phone cradle give the car a rugged feel. This is reinforced by robust build quality evident across the cabin.

Over a three-day test-drive consisting mostly of city roads, the car averaged 10.5 litres/100km – not brilliant, but not overly shoddy either.

What's brilliant, though, is how a sizeable SUV with an unfanciful drivetrain can drive so well.