GR Supra GT Cup ASIA 2020 – Top Three Singaporean Qualifiers
BORNEO MOTORS ANNOUNCES TOP THREE SINGAPOREAN QUALIFIERS FOR
GR SUPRA GT CUP ASIA 2020 [Regional Round]
Organised by Toyota Motor Asia Pacific (TMAP), the GR Supra GT Cup Asia 2020 is Toyota's first-ever regional e-Motorsport event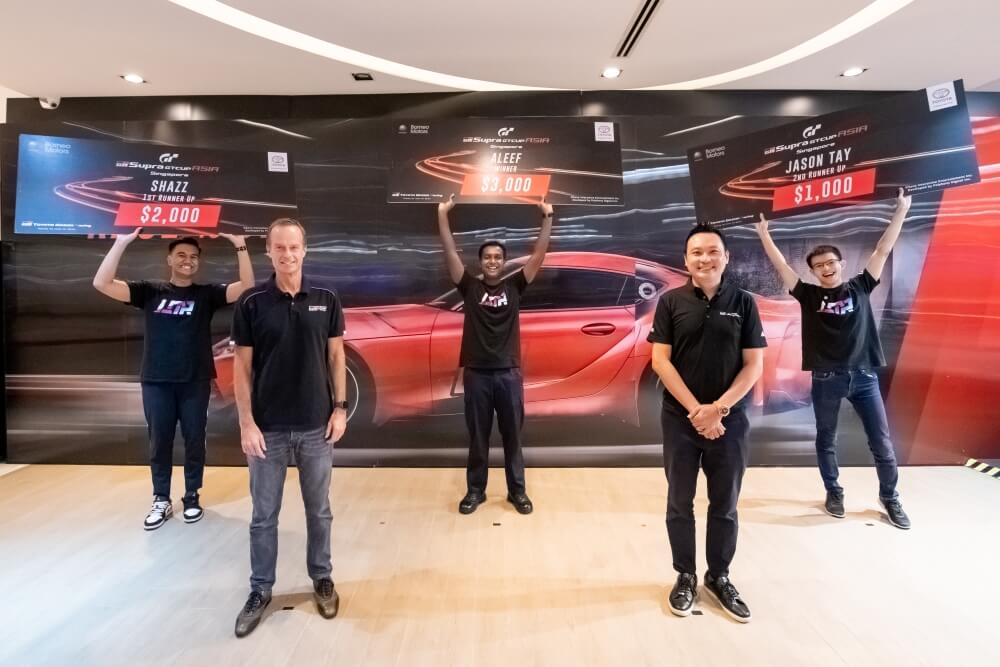 Singapore's top three qualifiers presented with their cash prize by Mr David Nordstrom, Vice President at Toyota Motor Asia Pacific and Mr Samuel Yong, Director of Marketing and Business Strategy at Borneo Motors
(Left to Right) Nur Shazliezhan Bin Hassan, Mr David Nordstrom, AR Muhammad Aleef, Mr Samuel Yong, Jason Tay
SINGAPORE, 21 September 2019 – Borneo Motors announced on Friday the top three Singaporean qualifiers for the GR Supra GT Cup Asia 2020 [Regional Round], Toyota's first-ever regional e-Motorsport event.
A series of competitive races at a national level were held to qualify for the regional round to be held on 25th October 2020, where five national teams hailing from Singapore, Malaysia, Thailand, Philippines, and India will be represented by three qualifiers from each country. Representing Singapore are top winner AR Muhammad Aleef, along with 1st runner up Nur Shazliezhan Bin Hassan and 2nd runner up Jason Tay. To take part in the competition, participants must own the Toyota GR Supra of Gran Turismo Sport on the PlayStation4 driving simulator.
As a part of championing Toyota's passion and rich heritage in motorsports, as well as the commitment towards building ever-better cars through the learnings and feedback gained from the motorsport, Borneo Motors is honoured to be the official sponsor and host for the national qualifying rounds in Singapore. Apart from fans of TOYOTA GAZOO Racing and the Toyota GR Supra, e-motorsport enthusiasts will be equally delighted to know that the e-Motorsport has evolved to be a key pillar of the TOYOTA GAZOO Racing heritage, building on Toyota's rich history of innovation and its long-standing involvement in the world of motorsports.
Speaking to the value of the sponsorship for Borneo Motors, Samuel Yong, Director of Marketing and Business Strategy at Borneo Motors, explained, "The passion for e-Motorsports has always been an integral part of TOYOTA GAZOO Racing. With the exciting introduction of the Toyota GR Supra to our line-up late last year, our sponsorship towards the GR Supra GT Cup Asia 2020 is undoubtedly aligned with the spirit of motorsports, and we hope to further fuel and celebrate the strong passion for TOYOTA GAZOO Racing here in Singapore through novel initiatives like this."
Speaking on behalf of the three qualifiers, winner AR Muhammad Aleef said, "We are grateful to Toyota and Borneo Motors for the opportunity to express our enthusiasm for e-motorsports and sharing it with other like-minded individuals. Through this competition, we've had the chance to meet other e-motorsport enthusiasts who are as equally passionate about Gran Turismo Sport and sim racing, and we cannot wait to do Singapore proud at the Regional round come October."
All three contestants will have a bigger opportunity to represent the region at the Global Finals in November 2020 should either of them emerge as the top winner in the Regional round. Parties who are interested to tune-in to watch the Regional round can visit oneesports.gg for more information on the livestream, along with details on participating qualifiers, racing circuits & rounds, entry procedures, and race formats.
For more information, please contact:
Fion Cheong
About Borneo Motors (Singapore)
Borneo Motors (Singapore) Pte Ltd is a subsidiary of Inchcape PLC (LSE: INCH), a leading global automotive distribution and retail group traded on the London Stock Exchange and has been Singapore's sole authorised distributor for Toyota for over 50 years.
"PlayStation" is a registered trademark of Sony Interactive Entertainment Inc. "PS4" is a trademark of the same company.
© 2019 Sony Interactive Entertainment Inc. Developed by Polyphony Digital Inc. "Gran Turismo" logos are registered trademarks or trademarks of Sony Interactive Entertainment Inc