Comfy Camry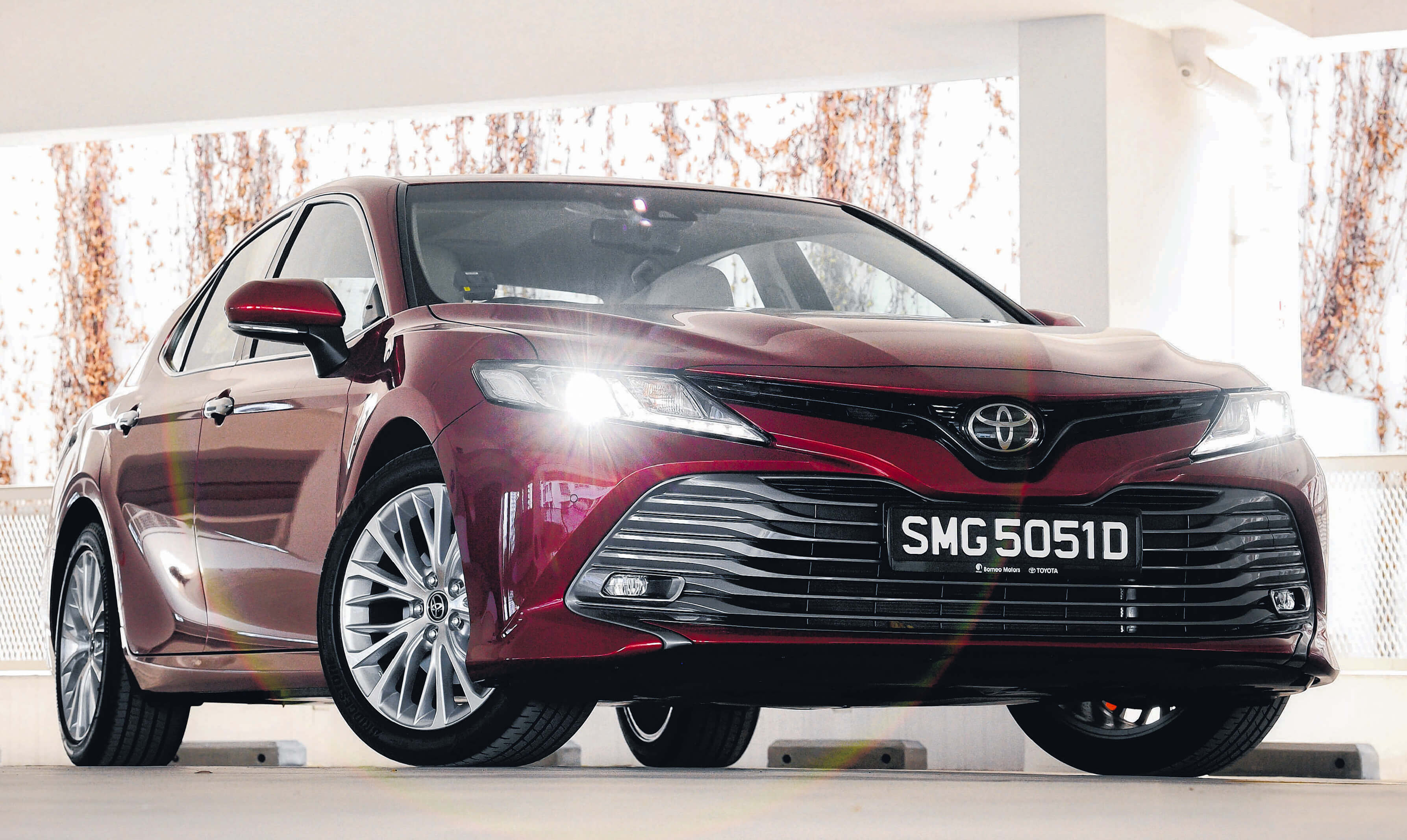 [ This article was first published on www.straitstimes.com ]
Review by Christopher Tan, Senior Correspondent. ST PHOTOS: Chong Jun Liang
There are cars which inspire a fierce and loyal following. The Toyota Camry, which turns 40 this year, is one such car.
While similar sedans from Honda and Nissan have left the scene here, the Camry is still having its day in the sun – relatively unscathed by the SUV tsunami.
It is even more amazing if you consider the executive model from Toyota is merely 15 per cent or so less expensive than a Mercedes-Benz C-class (yes, a smaller car overall, but it has the undeniable allure of a three-pointed star).
From its unveiling at the Singapore Motorshow last month, the new Camry has garnered more than 100 buyers. That accounts for the entire allocation authorised agent Borneo Motors has for the first quarter.
Looking at the latest model, it is not all that difficult to understand the hold the car has on its audience.
The car is built on a new global platform, one which the exquisite Lexus ES shares. And like the ES, the latest Camry sports a sleek and dynamic styling – a departure from its long, conservative stance.
Slim lights front and back, a prominent grooved grille, which extends down to where the front bumper is, and a soft wedge-shaped profile give the car a more youthful look.
The theme extends to the cabin, there the centre console is cradled in a chrome frame which folds like a kimono collar – going from right to left as it flows down to join the shift gate. Again, this is a departure from the strict symmetry seen in previous interior forms.
Unlike in the Toyota RAV4, a proper touchscreen infotainment monitor takes pride of place within the "kimono collar".
The big car is equally big on features. The 2.5-litre variant has adaptive cruise control, lane departure warning, pre-collision system and automatic high beam. It also has memory front seats, with the driver getting lumbar support as well.
These are in addition to features which the 2-litre has, such as electric parking brake with auto-hold function, rain-sensing wipers and rear air-con.
The Camry has always excelled in ride comfort, but the new one takes it half a notch higher. The chassis seems to be controlled by a magical self-levelling device (there is none, just good suspension) and the car remains on even keel even when steered swiftly round a bend.
And it sails over road humps almost like they're not there.
Despite its size, it turns neatly and accurately, with less tendency to stray into another lane than many others of its stature and requiring less correction than most. The car is adequately brisk, but not without generous throttle input.
The cabin is well insulated against vibration and harshness, but engine note beyond 3,000rpm permeates (in a not unpleasant manner).
Space-wise, the Camry is peerless in its segment, with plenty of room for both people and luggage.
Yet, there are a few things which are less than sterling. Its adaptive cruise control cuts off at speeds below 40kmh, forcing you to take over braking control. Its accelerator pedal releases with an audible ping, marring refinement. And when you open the driver's door, all others remain locked. The car averages 9.5 litres/100km.
Ignore these and you have a Camry which is better equipped than the last one, and yet priced almost identically.