TOYOTA SHIELD EXTENDED WARRANTY
At Borneo Motors, we understand your needs and concerns when driving a Toyota after the Manufacturer Warranty expires.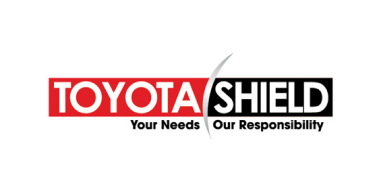 Extended Warranty Coverage for Extra Peace of Mind
another 2 years
from the date of expiry of the Manufacturer's Warranty (3 years or 100,000km, whichever occurs earlier)
Now you get to drive your Toyota for at least 5 years with extra peace of mind!*
For more information, please call us at
66311188
or go to our
contact us page
to submit your enquiry.
Toyota Shield Extended Warranty Covers:
Rear-wheel Drive
Front-wheel Drive
Steering
Front & Rear Suspension
Factory-fitted Air Conditioning System
Factory-fitted Audio System
Transfer Warranty
Toyota Shield Extended Warranty is fully transferable* during the warranty period, which adds resale value to your Toyota should you wish to sell it.
Service your vehicle every 6 months or 10,000 km (whichever occurs first) in accordance with the manufacturer's recommendation to maintain a valid warranty and keep your car in pristine condition. We strongly recommend that your vehicle be repaired by professional servicing workshops such as Borneo Motors (Singapore) Pte. Ltd., which is an authorised Toyota workshop. We will not be responsible for ensuring that your professional servicing records would be complete in order for your coverage to apply otherwise. For the avoidance of doubt, Borneo Motors (Singapore) Pte. Ltd. will not be responsible for any damages arising out of maintenance, servicing, repairs or parts replacement carried out by third party workshops.

There is a nominal fee of $108 (inclusive of GST) for the transfer of Toyota Shield.


Toyota Shield EW is only eligible for vehicles sold under Borneo Motors (S) Pte Ltd, not including vehicles registered as Private Hire Vehicle (PHVs) or commercial vehicle defined for the used in the act of business or trade where the vehicle is used in wholesales or retail delivery, emergency use, or for other business purposes. Other terms and conditions apply. Prices and specifications are subject to changes without prior notice.