Look for These Features When Choosing Your Next Premium Car
Choosing your next car is not only a financial commitment, it's also a testament to your status and the hard work you've put in to get your car.
As a hardworking executive, you want something that will take you from the boardroom to the city streets with uncompromising quality.

What do you want to convey with your next premium car?


Captivating exteriors with a turbocharged engine in a smart, functional package
Set yourself apart from the rest with the luxurious exterior of the Harrier. Aluminium rims with a forward-leaning quarter pillar lends itself to a fuss-free athletic design.

Beyond exquisite styling, luxury is knowing you have the power when you need it. That's what you get with the Harrier's turbocharged engine. But don't let its athleticism fool you, the Harrier doesn't come without its safety. It comes standard with Toyota Safety Sense, which is a bundle of active safety systems features utilising camera, lighting, and radar systems designed keep you out of harm's way. The multifunction steering wheel, intuitive dashboard, and keyless entry with a power back door to boot are sure to make this a smooth and convenient ride yet ensuring you have all control over your vehicle.

As it also features leather seats and multi-zone air-conditioning with auto climate control, any driver and passenger will feel like they're comfortably nestled inside a luxury sedan rather than a usually bulky SUV.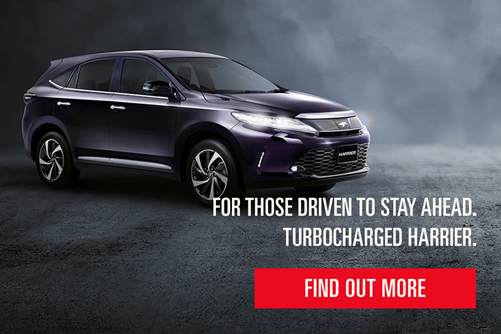 Seductively sleek like Camry
Take on every journey with ease in the all-new Camry. Designed with state-of-the-art safety features and spacious cabins with versatile storage options, Camry is elegance and functionality redefined.

It's the bold and sporty sophistication of its exterior which makes Camry a real head-turner. From sweeping curves and chiselled surfaces that form an energetic silhouette on the road, to a wind-cutting shape that optimizes air flow, Camry is all about taking the exhilaration of intelligent driving to a new high.

And did we even mention the Toyota New Global Architecture that makes driving Camry a thrilling experience? Sit behind its wheel today and feel the sense of openness, thanks to its unprecedented outward visibility.

Now what's keeping you from driving in style? Take Camry for a spin around the city and experience confidence that keeps you moving forward.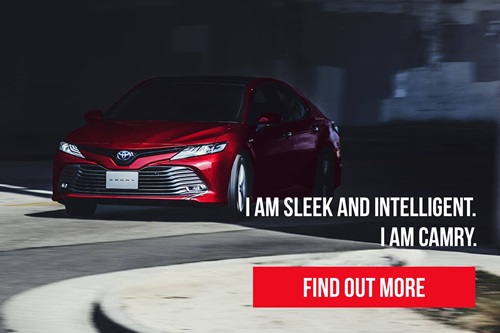 First class travel for those who are driven
Luxury, durability, and space. Rarely will you find these qualities in one package. However, the Alphard and its sibling model the Vellfire have managed to take this trifecta to new levels.

Their commanding presence and bold exterior scream "Go Big or Go Home." Plush interiors, Tri-Zone air conditioning, and an 8-speaker acoustic environment with captain and ottoman seats give it the Business Class feel. What's more, these cars are designed to transport up to seven people in quiet comfort with extra room for storage.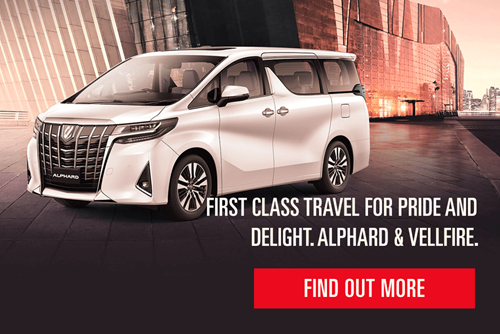 The view from the top is better
If you want to project a sense of adventure on the roads and still keep up appearances with your fellow executives, then the Fortuner might be right up your alley.
This 7 seater SUV is built tough and does more than the bare minimum. With a high body, rear parking sensors and a reversing camera, the Fortuner is made to give you absolute visibility on the road. Its seat configuration also gives you more storage than your average SUV. 7 SRS airbags, Vehicle Stability Control, and its impact absorbing structure also allow for a comfortable and safe drive. It's rugged but still composed enough for usability in an urban jungle.

And speaking of usability, the Fortuner's headlamps switch on automatically when it gets dark, and have a Follow me home function (which make it easier to navigate a dark parking lot after you alight) are an added touch for night time driving.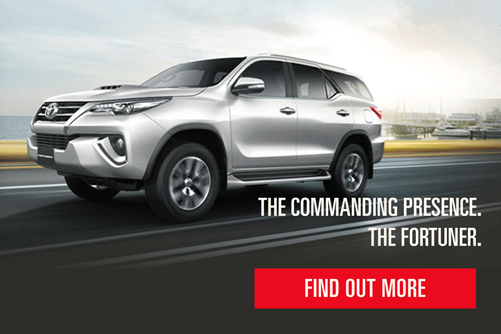 You won't settle for less. And you know you deserve the finer things in life, which include a brand-new, premium Toyota. Visit our online showroom to learn more.