Look for These Features When Choosing Your Next Premium Car
Choosing your next car is not only a financial commitment, it's also a testament to your status and the hard work you've put in to get your car.
As a hardworking executive, you want something that will take you from the boardroom to the city streets with uncompromising quality. What do you want to convey with your next premium car?


For those driven to do more. The new Harrier.
Set yourself apart from the rest with the luxurious, sculpted exterior of the Harrier, featuring a low centre of gravity, tapered roofline and sporty dual exhaust pipes.
Beyond exquisite styling, luxury is knowing you have power and torque when you need it. The Harrier's next generation Toyota Hybrid System delivers both impressive power output and unparalleled fuel efficiency. But don't let its athleticism fool you, the Harrier doesn't come without its safety. It comes standard with Toyota Safety Sense, which is a bundle of active safety systems features utilising camera, lighting, and radar systems designed keep you out of harm's way. The multifunction steering wheel, intuitive dashboard, and keyless entry with a power back door to boot are sure to make this a smooth and convenient ride yet ensuring you have all control over your vehicle.
As it also features leather seats and multi-zone air-conditioning with auto climate control, any driver and passenger will feel like they're comfortably nestled inside a luxury sedan rather than a usually bulky SUV.
Set yourself apart from the rest with the luxurious exterior of the Harrier. Aluminium rims with a forward-leaning quarter pillar lends itself to a fuss-free athletic design.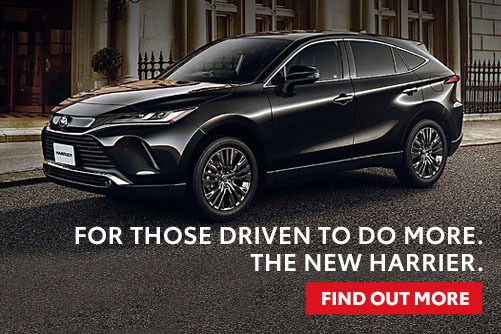 Our most powerful Camry yet
Power meets luxury—the Camry experience you've been waiting for has arrived. With a new 2.5L self-charging hybrid powertrain delivering more torque and blistering acceleration, the all-new Camry Hybrid matches dynamic performance with impressive new styling and functionality—the perfect mix of excitement, practicality, and refinement.
In addition, an advanced suite of comprehensive safety features—Toyota Safety Sense—completes this reinvented luxury sedan experience and makes it a breakthrough drive like no other.
Outside, the It's the bold and sporty sophistication of its exterior which makes the Camry a real head-turner. From sweeping curves and a low, wide stance that hints at a new sense of purpose on the road, to a wind-cutting shape that optimizes air flow, the Camry is all about taking the exhilaration of intelligent driving to a new high.
Now what's keeping you from driving in style? Take the Camry for a spin around the city and experience a new sense of confidence to keep you moving forward—more powerfully than ever.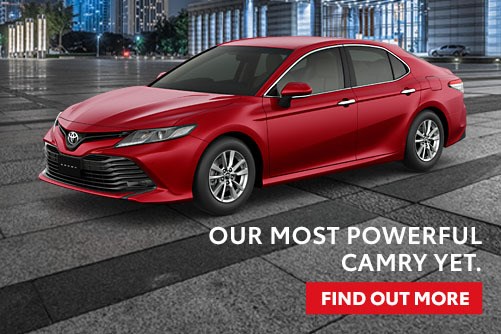 You won't settle for less. And you know you deserve the finer things in life, which include a brand-new, premium Toyota. Visit our online showroom to learn more.