Phase 2 (Heightened Alert) Update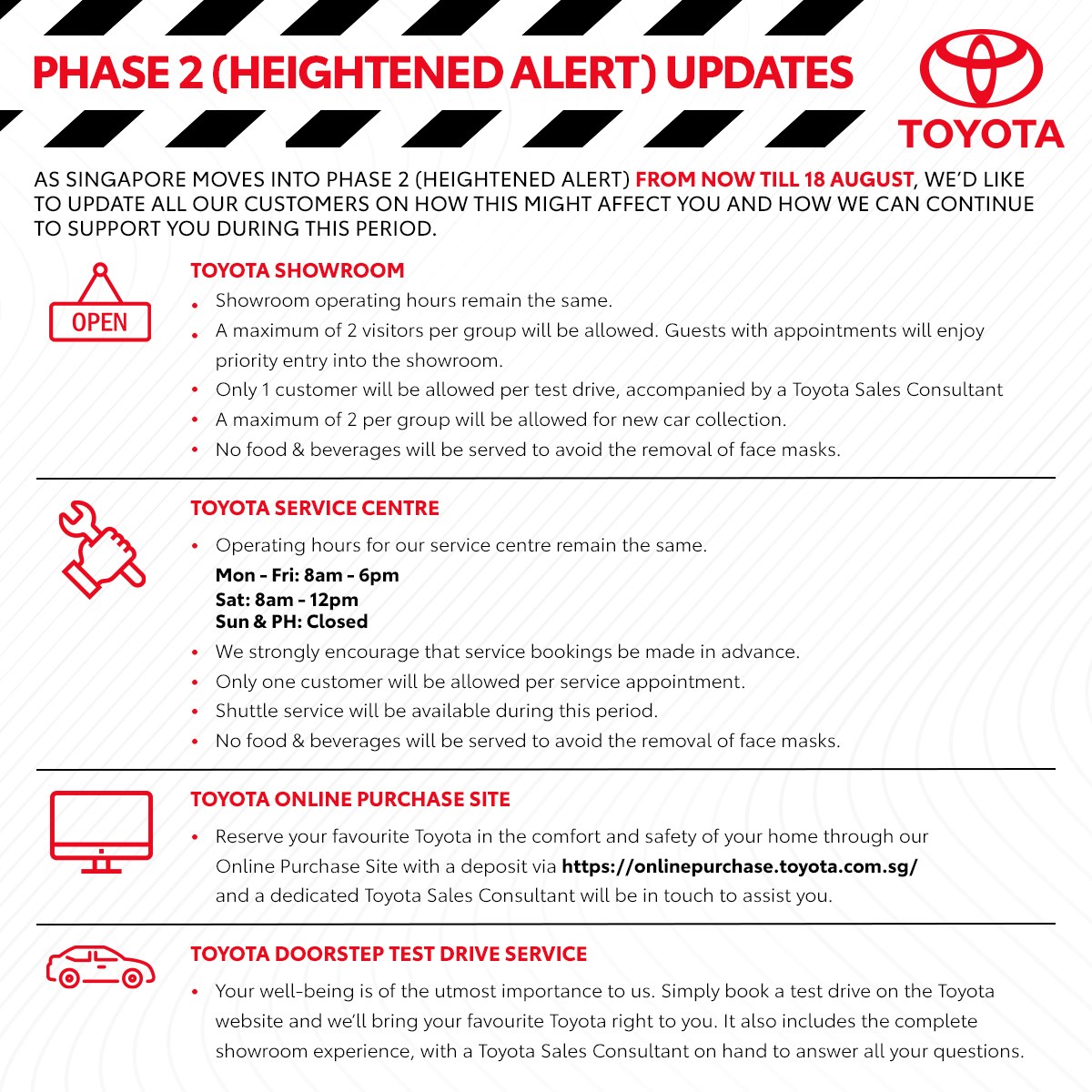 Your questions answered
All of us have questions at this uncertain time, so we've pulled together some answers to some of the most popular questions we're heard from our customers. We hope they help.
IS THE TOYOTA SHOWROOM OPEN?

The Toyota Showrooms operating hours remain unchanged as listed below.

Mon to Fri: 9.00am – 6.00pm
Sat: 9.00am – 7.00pm
Sun & PH: 10.00am – 6.00pm

Heightened measures have been adopted to be in line with best-practice advice from government and health authorities, including temperature taking, implementing SafeEntry national digital check-in systems, increased cleaning and hygiene measures.

The Toyota Showrooms and Service Centres will also implement social distancing guidelines with a maximum of 2 visitors per group allowed. The crowd density of the showrooms will also be closely monitored to ensure the well-being of our customers and our employees.

Customers are strongly encouraged to make an Online Appointment prior to your visit. This would minimize your waiting time upon arrival as you will be granted priority access to the showroom.

You can now make an Online Appointment via www.toyota.com.sg/enquiry

WHAT IF I DON'T WANT TO VISIT THE TOYOTA SHOWROOM BUT WILL STILL LIKE TO BOOK A VEHICLE REMOTELY AT THIS POINT OF TIME. HOW CAN I GO ABOUT IT?

While we have initiated strict hygiene protocols in the Toyota Showrooms and Service Centres, Toyota Singapore also understands the importance of social distancing measures, and is committed to keeping our customers safe and providing service with true peace of mind.

If you would prefer not to visit a Toyota showroom at this time, you can still access information and services you need online or over the phone.

Whether you want to find out more or purchase a new vehicle, the entire process can still be done from the comfort of your home.

Detailed vehicle brochures are available for download on our website.

You can reserve your favourite Toyota online via our Online Purchase Site and a Toyota Sales Consultant will be in touch to assist you.

Or simply fill in the contact form and a dedicated consultant will get in touch with you to follow up on your Contactless Purchase.

Step One: Your Sales Consultant will be in touch with you to find out more about your request and address your enquiries.
Step Two: A Retail Customer Order (RCO) will be emailed to you for your review.
Step Three: Upon confirmation, your Sales Consultant will send a unique URL to you for secure online payment of the deposit.
Step Four: The confirmation of the deposit payment will be sent to you together with the receipt.

WHAT IF I NEED TO VISIT THE TOYOTA SHOWROOM TO COMPLETE MY PURCHASE?

You can continue to visit the Toyota showrooms to complete your purchase but limited to a maximum of 2 visitors per group.

In addition to the strict hygiene protocols and social distancing measures implemented, all processes will be completed digitally, your contracts and receipts will be sent to your email that you have indicated, in soft-copy.

Contactless payment methods are also available via QuickPay and funds transfer. No cash transactions will be accepted.

WILL I NOW BE ABLE TO GET MY NEW TOYOTA VEHICLE?

The delivery of your new Toyota will continue at Inchcape Centre with a maximum of 2 customers per group allowed for the new car collection. The collection of your car will be scheduled, and your appointment will be arranged by our delivery consultant.

Our Sales Consultants will also be equipped with face masks and gloves throughout the sessions.

I WANT TO TEST DRIVE A NEW VEHICLE; HOW DO I GO ABOUT DOING THIS?

Test drives will continue as per normal with additional measures in place. All test drive vehicles will be sanitized before and after use. All Sales Consultants will be equipped with face masks and gloves during the entire test drive process.

As an added measure, we will only allow one customer for each test drive session, accompanied by a Toyota Sales Consultant.

Alternatively, you can book a Doorstep Test Drive Service, where we will arrange to bring your preferred model right to your doorstep.

To book an appointment to test drive at the Toyota Showroom or a Doorstep Test Drive service, you can visit https://www.toyota.com.sg/book-a-test-drive or contact your preferred Sales Consultant.

CAN I STILL SERVICE MY VEHICLE?

The Toyota Service Centres (33 Leng Kee Road; 2 Pandan Crescent; 17 Ubi Road 4) and the Toyota Body & Paint Centre (2 Pandan Crescent) will continue operations aligned with heightened safe distancing measures. For more information on our operating hours, please refer to the times listed below.

Toyota Service Centres:
Mon to Fri: 8am to 6pm
Sat: 8am to 12pm
Sun & PH: Closed

Toyota Body & Paint Centre:
Mon to Fri: 8am to 5pm
Sat: 8am to 12pm
Sun & PH: Closed

We urge you to make your appointments in advance online (https://servicebooking.inchcape.com.sg/toyota). Only single visitor (1 pax) per service appointment will be allowed in our centre.

Kindly note that all customers will not be allowed to linger and wait at our service centre during this period as well.

For any queries regarding your servicing appointment, please call 6631 1188 or reach us at any of the other channels indicated above.


WILL THERE BE ANY BEVERAGES SERVED WHEN I COME IN FOR MY SERVICING APPOINTMENT?

MY VEHICLE HAS BROKEN DOWN/NEEDS AN URGENT REPAIR - WHAT CAN YOU DO TO HELP ME?

IS THERE ANY SHUTTLE SERVICES AVAILABLE?