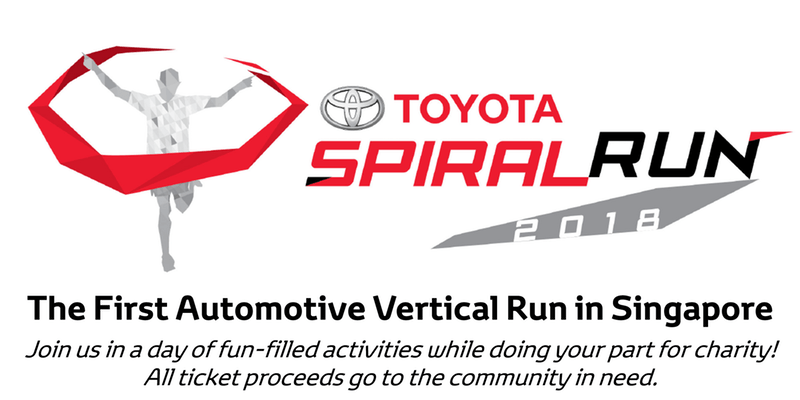 Charity Run and Carnival at Inchcape Centre
Join us in Borneo Motors' inaugural run event to celebrate the opening of our new Inchcape Centre – an 11-storey vertically integrated facility for vehicle needs (mechanical service, repairs and bodycare), Asia and Singapore corporate HQ and a purpose-built regional training centre.
Proud to be the first of its kind, the Toyota Spiral Run is Singapore's very first run event organised and fronted by a car mark. It is also the first slope run in Singapore, measuring 1.1km on foot (equivalent to 22-storey HDB). Although 1.1km may seem easy, the real challenge kicks in from the gradient as you make your way to the top.
Be sure to check out our carnival activities while you're here. Bring your family along and have a fun-filled day with Toyota! Free entry for children below 12 years old.
1,000 participants are expected to turn up

Toyota Dojo – a mini Kidzania-style car workshop for children

Family-friendly activities

Car clinics

F&B and more available on-site!
Interested parties can purchase ticket at our event page :
Purchase Now (TME Member) Purchase Now (Public) Have Questions?


Toyota Spiral Run ('Event') Rules and Regulation
NOTE: Please read and familiarise yourself with the following terms & conditions of participation ("Conditions") before proceeding with your registration.
As a contestant in Toyota Spiral Run 2018 (hereinafter referred to as the "Event"), I understand and will abide by the Rules as established by the organisers.


I acknowledge that I am solely responsible for my personal possessions and athletic equipment during the Event and its related activities.


I acknowledge that the Event is an extreme test of one's physical and mental limits and carries with it the possibility of death, serious injury, and/or property damage. I acknowledge and agree that it is my responsibility to determine whether I am sufficiently fit and healthy to safely participate in the Event, and I attest and certify that I am or will be sufficiently fit and physically trained to participate in the Event which I elect to enter. Should I have any medical condition, I have sought the advice of a licensed medical doctor who has verified that I am fit and able to participate in the Event. I have no physical or medical condition which would endanger myself or others if I participate in the Event, or would interfere with my ability to safely participate in the Event. I accept responsibility for the condition and adequacy of my competition equipment and my conduct in connection with the Event.


I understand and acknowledge the dangers associated with the consumption of alcohol and/or drugs before, during and after the Event and I recognize that consumption of alcohol and/or drugs might impair my judgment and/or motor skills. I assume full responsibility for any death, injury, loss or damage (a) associated with my consumption of alcohol and/or drugs or (b) caused by, result or rising from or related to my participation in the Event.


I acknowledge and ASSUME ALL OF THE RISKS and aspects of the Event. I acknowledge that running, crossing obstacles and other portions of the Event are inherently dangerous and I understand that I will be participating in the Event at my own risk. On behalf of myself, my executors, administrators, heirs, next of kin, successors and assigns, and anyone else who might sue on my behalf, I HEREBY WAIVE, RELEASE, and FOREVER DISCHARGE, Borneo Motors (S) Pte Ltd, Esprimo Pte Ltd, Toyota Spiral Run 2018, all Event sponsors, Event producers, Event staff, administrators, officials, contractors, vendors, and organisers (including race directors), volunteers, all other persons or entities involved with the Event, cities, towns, and other governmental bodies and locations in which an Event or portions of an Event takes place, and the officers, directors, employees, agents, insurers, other participants and representatives of all of the above (collectively, the "Released Parties"), from any and all claims, causes of action, damages, losses (economic and non-economic), and liabilities of every kind (collectively "Claims"), for death, personal injury, property damage, which may arise out of, result from, or relate to my participation in, or my traveling to or from, including but not limited to any Claims for theft, damage to any equipment, negligence, partial or permanent disability, Claims relating to the provision of first aid, medical care, medical treatment, or medical decisions (at an Event site or elsewhere), and any Claims for medical or hospital expenses. I further understand that any injury or damages incurred may be the result of negligence, omission or carelessness by the Released Parties.


I AGREE TO INDEMNIFY and HOLD HARMLESS the Released Parties from any and all expenses incurred, claims made, or liabilities assessed against them, including but not limited to legal fees and litigation expenses, arising out of or resulting from, directly or indirectly, in whole or in part, my breach or failure to abide by any part of these Conditions, my breach or failure to abide by any of Toyota Spiral Run 2018 Rules, and my actions or inactions which cause injury or damage to any other person.


I undertake to comply with all statutory requirements, duties, laws and guidelines, and the requirements of Borneo Motors (S) Pte Ltd and the organisers as to access and conduct at the venue(s) and Event.


I understand that if I miss the flag-off time, I will not be allowed to participate and will automatically be disqualified from the race. I must also complete the course in the race before the cut-off time specified by the organiser (1 hour after flag off time), otherwise I would be deemed disqualified. Should I be allowed to continue after the cut-off time, I realize the organisers cannot guarantee my safety.


I acknowledge and agree that the copyright and all other intellectual property rights in and to the photographs, recordings, or any other records taken of me for the Event (the "Material") shall vest solely and absolutely in Borneo Motors (S) Pte Ltd without further compensation.


I agree that in the event of a race cancellation as provided in the Rules, my entry fee shall be non-refundable.


If any provision of these Conditions shall be unlawful, void, or for any reason unenforceable, then that provision shall be deemed severable from these Conditions and shall not affect the validity and enforceability of any remaining provisions.


These Conditions shall be governed by and construed in accordance with the laws of Singapore, and the parties irrevocably submit to the exclusive jurisdiction of the Singapore courts.


Your registration, running bib and timing chip are are non-transferable due to liability reasons. In addition, there are no refunds even if the event should be cancelled.


Switching of run categories is not allowed to maintain the integrity of the event.
I agree to the terms & conditions above and confirm that the information provided is accurate.