Toyota Shield Infinity
Enjoy up to 30% discount on servicing and repair when you upgrade from your current Toyota Shield Membership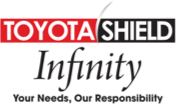 For Affordable & Quality Care that You & Your Car Deserve!
Upgrade from your current Toyota Shield Membership to a Toyota Shield Infinity and enjoy:
30% Discount
on servicing and repair
$289
throughout your vehicle lifetime
$189
for vehicles aged 36 months or less
Were you able to do what you wanted on the site today?
Thank you for your valuable feedback.